Because of work, I have been travelling for the past two years. Visiting the company's offices across the country and taking part in migration or integration of data, upgrading desktops and connectivity, or even moving whole offices from one place to another. Usually there is not much time to sight-see. The trip usually has this (simplified) template :
Thursday - Fly in, assess the site, inventory and verify old & new equipment.
Friday - Sometimes organize local temp techs (or do myself) to remove old equipment, put in place new equipment, and work with the team I'm part of to build and bring up the new network.
Saturday - Get network tweaked and new desktops configured to company standard with user profiles.
Sunday - Work out issues and kinks on desktops, network or phone system. Collect old equipment for recycling and tidy up server room to company standards.
Monday - Train local users on new desktop, answer questions, resolve or document issues to be resolved and then fly out.
I seem to take lots of airport "wing" photos
It can get lots more involved, but those are the basics. All while still maintaining my day-to-day tasks. It can mean long days. Mostly I get to see airports, the inside of hotel rooms, office spaces and whatever place we are eating meals.
Occasionally though I get to a place where I can take a few hours on a Sunday afternoon to sight see. I usually don't get to plan on where until late Saturday.
This Work Trip was different.
If I planned it right - and weather and wildfire co-operated - I could get a FULL day in one of my Bucket list National Parks.
When I saw I was headed to Fresno California, I noticed on the map that the town was near two places on my bucket list - Yosemite Valley and Kings Canyon National Park. Both were approximately two hours away from where I needed to be for work. Over dinner on another trip, I checked with my team lead if I could add a day or two on the front or back end of the Fresno trip. I got a preliminary OK, and after checking schedules, found it was easy to load two days to the front of the trip - I was travelling elsewhere right after Fresno.
It was too good an opportunity NOT to take. I booked early flights (actually saved the company money) and started planning.
As I planned and researched Yosemite was my front-runner. Hiking trails, waterfalls, rivers, vistas, and
reading of John Muir's travels
drew me in. The town of Oakhurst would serve as a great jumping off mid-point, being both an hour from the airport and Yosemite Valley. But recent
wildfires
had closed Route 41 - the main route - to everything I wanted to see in Yosemite.
I decided to go for it. Glad I did!
My air travel to Fresno had me switching planes in Phoenix. Not only did I need to switch gates, but terminals as well. In an airport I did not know. This was going to be fun! Thankfully they had some moving walkways between the terminals and I made it to my next flight with about 10 minutes till boarding call. Not bad, but I'm not one that enjoys calling it close.
Fresno airport's official name is Fresno Yosemite International Airport. Not all that bustling, it has two runways and one terminal, with a pretty long walk to my "Emerald Aisle" rental car. I wanted to do hiking, but not with ALL my equipment and bags!
You can walk thru a mock-up of a Sequoia Tree at the Fresno Airport
Choices were slim, but I chose a 4WD Jeep Compass - seemed appropriate for the Sierra Mountains. I threw in my bags, checked out the car and was on the road to Highway 41 and Oakhurst California.
Highway 41 in Fresno area is a multi-lane monstrosity like any other major city, but as you get out of Fresno and into the foothills, it becomes only two lanes. As I drove, past plateaus, ranches, and scrub filled fields, I noticed it was pretty dry - and plenty of smoke in the distant mountains.
Gray skies were actually smokey skies
Entering into the Sierra foothills
On the way to Oakhurst there were some interesting little towns along the way. If I had been more rested after my six hours of flights, I may have stopped. Indian Springs and
Coarsegold
will need a stop some day.
Town of Oakhurst - down in the valley
After getting to my hotel in Oakhurst, it was time to get something to eat and provision for the next day. I had previously mapped out some eating spots and decided to visit the
South Gate Brewery
. Enjoyed a delicious plate of Salmon tacos with thick hand cut chips, and two brews, a
blackberry cider from Oregon
, and South Gate's own wheat on tap - Honey Badger Wheat Ale. The wheat was definitely the better of the two!
Salmon Tacos - hit the spot for a hungry traveller!
Having enjoyed a relaxing meal, I drove over to the local grocery to grab a few essentials for my day of hiking I had planned. Breakfast bars, a nine pack of spring water bottles, some fruit, bug repellent wipes and sunscreen. These were things I could not carry-on the plane easily (I don't usually check bags)
Items I brought from home for hikes included small flashlight, floppy hat, sweater, extra weatherproof jacket, binoculars and backsack.
I was pretty sure to see the most area possible that I would only be able to work in shorter hikes, so I found a great resource in
Yosemite Hikes
Website.
My Yosemite Day
Woke up before five am (not hard when your body is still on East Coast Time) showered, and grabbed by pre-packed gear. and headed out by 5:45, headed on Route 41 up into the Sierra National Forest. There were plenty of drivers headed up that knew the road better than I and rather then slow them down, I pulled over at a few overlooks to let them speed on past. As I climbed in elevation, it became more chilly, and as I was pulled over at an overlook, looked up. In the morning darkness there were more stars that I can usually see camping anywhere on the East Coast. Route 41 at this point was narrowing to two winding lanes, snaking up into the mountains - occasionally dipping into a valley and then climbing once again. When I got to the Park entrance, there was construction work going on, and no one manning the stone work booths to collect fees. As I neared my first goal, the first light let me see the drop-offs that were along the roadway. Maybe it WAS best I drove up in the dark!
I finally saw and passed through the long tunnel I was expecting - and pulled into the parking lot of Tunnel View. Only a few photographers and other early risers were there catching the first morning light as it hit the tops of El Capitan and Half Dome.
The Morning Light as it drops into Yosemite Valley
People were mostly silent as together we watched the sunlight pour into the Yosemite Valley. It was cold, and I was glad for my sweater and windbreaker. Some were dressed even warmer in down jackets, knit hats and gloves. My first trail started at this parking lot, so after admiring the view a bit longer I headed to climb partway on the Glacial Point Trail, to an offshoot of an old Stagecoach road to
Artist's Trail
.
The trail was rocky, steep, and not marked with blazes on trees or rocks as I'm use to on my East Coast hikes. I actually missed a turn and went off the trail a bit - though it rewarded with some great views from right over top the tunnel road.
Looking back where I just hiked - Yup I thought this was part of the trail.
Back on the trail, it continued to climb via a series of switchbacks. There were great views and interesting plant life all along the way.
Interesting Lichens
Through the trees, mountain views
After a particularly steep switchback, I rested on a natural rock seat and had a sip of water while taking in my surroundings. A bright blue bird caught my eye in a nearby bush. I later identified it as a Steller's Jay - common in Yosemite, but new to me! Then, as I stood to continue on the trail, I saw an animal dart onto the path ahead, stop - look my way, dart across the trail and down the mountain, Coyote? Weazel? Mink? Racoon? I was not at all sure, it had a longer bushy tail of black and white, and body coloration was in the blacks or grays. After some
research
, Turns out I had seen a Ringtail Cat! Only had a short glimpse of the guy, but heard him for quite a while heading downhill through the underbrush.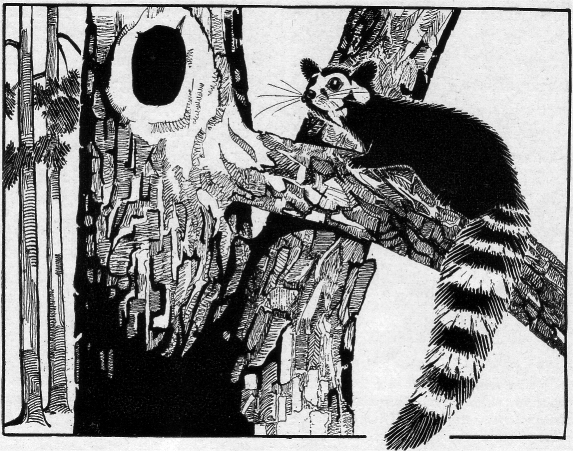 California Ring-tailed Cat ~ Drawing by C. P. Russell
I climbed with the trail a bit further, but never got to, or crossed the old stage coach trail I expected. After hiking about 40 minutes, due to this being my first trail, and not having trail markers, I made the decision to turn back and head to the parking area at Tunnel View. Wish I continued, but as the day went on - not a regrettable decision.
By now at Tunnel View, at the parking lot was fuller, as cars trucks and RVs jockeyed for spaces. I jumped in the jeep and headed for my next spot - Bridal View Falls.
Bridal View Falls had plenty of parking, and the trail to the viewing area is fully paved. Since my visit was in autumn, the falls flow was not filled with spring snow melt, but it's height and surrounds were still impressive. It was interesting watching the updraft move the ribbon of falling water across the face of the cliff. After a short stay, and assisting some German visitors with a photo, I headed back down the trail to continue taking in the Yosemite Valley.
Yours truly at the end viewing point of Bridal Veil Falls
I wasn't sure where to head next, but the roadways in in the Yosemite Valley are set in such a way after Bridal Falls to take you (via Southside Drive) south along the Merced River, and then back north (via Northside Drive) toward Tunnel view via the opposite bank. Once the road arrived to the valley floor, I emerged from forest and entered into an open meadow enviorment with street side parking to either side of the driving lanes. Once parked, the rising mountains to either side probably caused me to stare car-side longer than I'd like to admit. The suddenness of the vertical height encasing the valley was a new experience for me. There were plenty of trails toward the Merced River, so I followed one and soon was able to climb down the rocky bank to be riverside. I just stayed here and enjoyed the views of river and rock formations for a good twenty minutes. Below is a 40 second clip of the views beside the river.
I found two small granite rocks for mementos of my time there and placed them in my pocket. After exploring the meadow and creating a
Photosphere
of the meadow and surrounds, I jumped in the car again to explore further along Southside Road. Along the road, there are plenty of picnic areas or smaller pull-offs. One area had recently had a forest fire, evident by scorched and fallen trees. I turned into the small two spot parking area next to massive trees laying on their side. These were cut down it seemed after the fire damage.
A closeup of a felled pine
Scorched Trees
A hollow, burned out tree
Scorch marks on a still standing tree
The fire must have happened a while ago, as the fallen pine needles were untouched on the ground, and there were even low, flowering plants blooming.
A collection of the sights between fire area and Merced River
In this place the Merced River was much more calm, a slow flowing ripple of water.
This was only part of my memorable day in beautiful Yosemite Valley - which really stretched into the evening. Part two is
here